Popcorn / Candy Floss
Do you have a very important event and want to make it completely different from all the others out there? Here is a fresh idea to think about. Why not add our popcorn and candy floss machine that we have for hire? Think about it; everyone likes popcorn, and candy floss will bring back good childhood memories and will make a perfect attraction for kids and the young at heart.

If you think a popcorn and candy floss machine will look out of place at events like weddings, think again. Both popcorn and candy floss machines will make a great attraction for guests. Seeing these machines will bring back memories and will make the day truly an event to remember.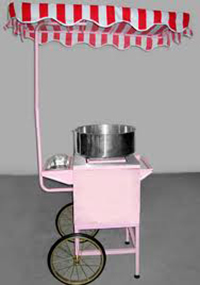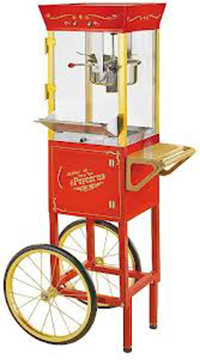 We offer both supervised and unsupervised popcorn and candy floss machines. You are free to choose whichever machine or machine combination you want. You can just hire a popcorn machine, a candy floss machine, or both.

Our unsupervised popcorn machine can be hired for the very low price of £99. The price is the same for the unsupervised candy floss machine. If you are looking for the supervised versions of these machines, they can be hired for £150 per machine. However, if you want to hire both machines or any combination of our wonderful machines, you need to call us. We will give you incredible special offers, which will make you smile.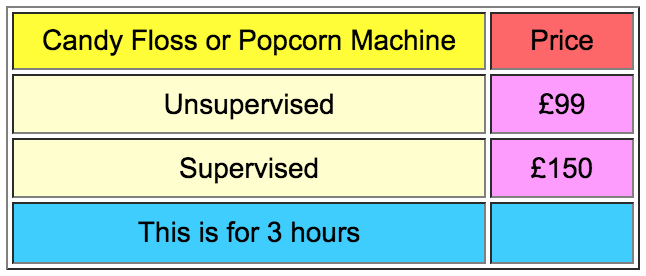 Why our machines?

You will captivate your guests with the tantalising aroma of popcorn and sweet candy floss. There are several popcorn flavours to choose from — that means infinite fun for everyone at the event. You also have the option of requesting a staff member to come with the machine if you'd like (at an additional cost). To learn more about our machines, or to help you decide between the supervised and unsupervised options, please give us a ring for more details.



We serve and deliver in the majority of the North West area, which includes Manchester, Liverpool, Chester, Warrington, Frodsham, Wirral, Bury, Bolton, Blackpool, Stockport, Blackburn, Wigan, Southport and St. Helens. We deliver to many of these places without any delivery charge!

If you are looking for a popcorn, candy floss, or any machine that you find on our website, like bouncing castles or sumo suits, please give us a call, so we can arrange a special offer just for you. We own all the items that we offer, and we do not outsource. This means you can be assured of the quality of all the items that you find in our site. This also means that we can give you the best deals and discounts, which you will not find elsewhere.
Showing 2 results